If you are a gaming fan, you must check this best android controller that has won the hearts of many Gamers and Players worldwide.
Currently known as the best android controller, the SteelSeries Stratus XL is world's best Gamepad for android.
It costs around 34 USD. But, it's worth the price.
Wanna get a surprise? Ok, I'll tell.
This Bluetooth controller isn't only compatible with android, but, it also works on Windows.
Shocked? Aren't you?
Everyone wants to get a full gaming feel while playing their favorite games. Whether it is hardware related or software related.
This Gamepad is perfect for your palms and will give you the best feel that one can ever get.
So, let's dig deep into it.
Best Android Controller
This best gamepad for android feels like a solid console pad and provides a marvelous feel whether you are an android gamer or a desktop one.
It was designed to overcome two different aspects at once. And they are, playing on Android and Desktop using one single controller.
Due to its multiple compatibility, you can play on any device like tablets, smartphones, desktop computer and even a laptop using this best android controller.
But, always remember, it is not only an android controller.
This console-like android controller, measures 4.4 by 5.9 by 1.7 inches (HWD) and weighs a solid 10.2 ounces with two AA batteries.
Talking about the controller configuration, this one has a configuration similar to that of a PlayStation.
It has got two analog sticks parallel to each other and in between them, Start, Back and Menu buttons stay.
Featuring Left and Right triggers at the top, it has X-Box like arrangement of the A/B/X/Y buttons on the right and the normal direction buttons on the left.
Behind the best android controller, there sits a battery slot and under it, the Power Switch.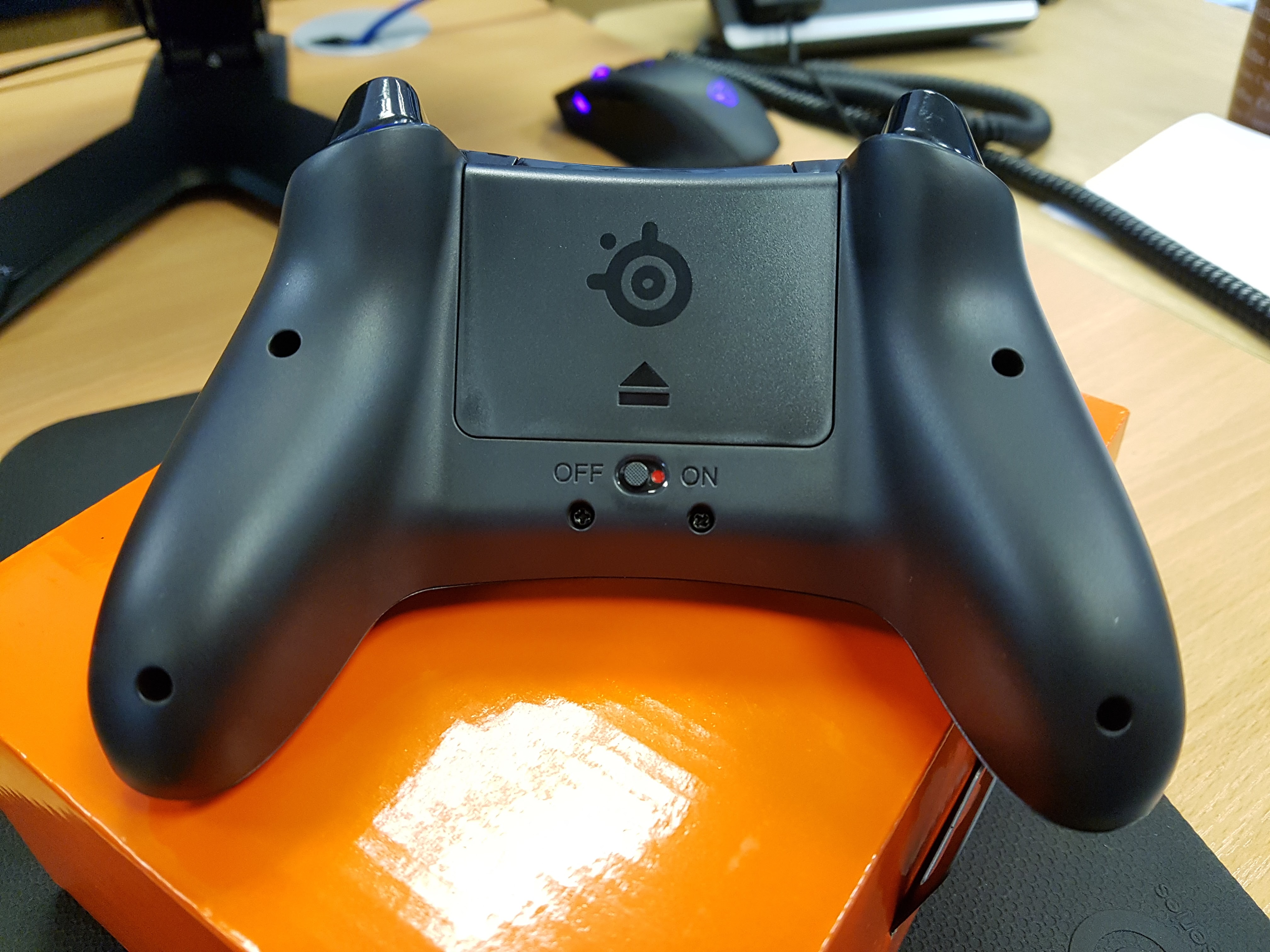 The top has also got a Pair Status and a Battery Indicator, but, don't worry, they would be out of your hand's reach while gaming.
According to SteelSeries, this best android controller can last up to 40 hours of continuous gameplay on two AA batteries unless you turn it off when not in use.
For your information, it doesn't feature an advanced integrated Sleep function to save battery.
For the connection, you have to download a SteelSeries Engine Software. Then, just press the Pair button until it flashes.
The software is needed to transmit all your inputs to be converted to outputs in the gaming screen.
Performance
As mentioned before, this is one of the best gamepad for android and Windows, so, you don't need to doubt its performance even a little.
This best android controller provides you the best control ever. With quick lighting strokes, you can win almost any fight in first try.
It receives your input with lighting speed and is the best android controller for combo attacks.
The Feel
Stratus XL feels strong, solid and sturdy. The Analog sticks are just perfect and smooth as butter. Just a light shift and you'll get a response as you needed.
In terms of feel and build quality, it can be compared with the X-Box Elite Wireless Controller.
In my perspective, SteelSeries Stratus XL is way better than the X-Box controller.
If you want to buy this best android controller, you can visit this link.
Feel free to comment regarding Best android controller or Best Gamepad for Android and you can submit your content to get featured.